0
Det här är stort. Den populära TV-serien Veronica Mars ska bli film tack vare en intensiv kampanj på Kickstarter. Alla backare erbjuds generösa belöningar (för $10000 fick man en talande roll i filmen) och idag öppnades dessa belöningar upp för internationella fans.
Så nu har jag och Josefin backat med $60 och får alltså:
"You'll receive everything listed above, plus you'll receive a physical DVD of the movie that will include a documentary on the making of the Veronica Mars movie and the history-making Kickstarter campaign, plus other bonus features not available on the digital download. Available to US, Canada, Australia/New Zealand, and select EU countries (New! See Project Description for full list)"
Nu ser vi fram emot filmen. Premiär 2014!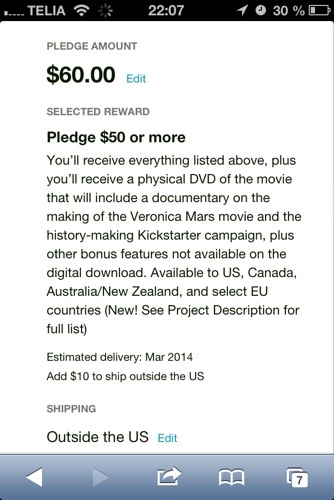 Follow @oskardahlbom